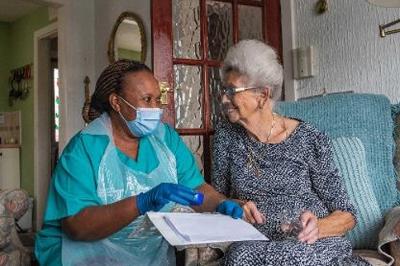 Be a part of the change.
Join our care at home team and help create more caring futures for the people of Renfrewshire.
COVID-19 has highlighted the importance of carers in our communities. Never has a role as a carer been as highly valued as it is today. The Scottish Government agrees and has committed to delivering a new and improved Care Service for Scotland within five years.
Are you ready to play a part in the future of care?
Renfrewshire Health and Social Care Partnership already delivers high quality home care services to people of all ages and with different care needs, throughout Renfrewshire.
To help us on the next steps of our journey, we're looking for people to join our Care at Home team with a real drive to make a difference.
To do this, you need to have genuine compassion for others and be motivated by helping those you care for to have the best quality of life they can.
As a Homecare worker, you'll be supporting people with a variety of the day-to-day tasks they may struggle with on their own.

This will include, helping with personal care needs such as washing, dressing making sure they take their medication correctly, preparing meals or going to the toilet.

This is an opportunity for you to make a real difference and help the people of Renfrewshire at one of the most exciting times to start a career in social care.
About the role
Homecare Workers work in a rota pattern, based on 25 hours per week, four days on / four days off. We are looking for people who are prepared to work flexibly, as shifts can often involve a combination of early shift and back shift. The service operates 24 hours per day, 7 days per week.

Other more flexible contract options may be available.

We can provide all the training you will need to meet the statutory requirements of becoming a Home Care Worker. Home Care Workers must legally attain SVQ Level 2 in Social Care to undertake the role, but for the right candidate we will provide support for you to achieve this qualification. You must also be registered with the Scottish Social Services Council (SSSC) or achieve registration within six months of your start date.
Your application should demonstrate your ability to deliver personal care in a formal or informal environment.
Apply today - https://myjobscotland.gov.uk/councils/renfrewshire-council/jobs/home-care-worker-permanent-228663